Covers by Barbara Lofthouse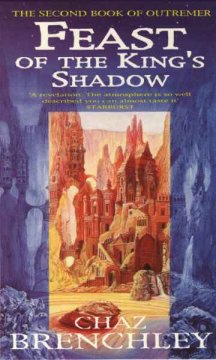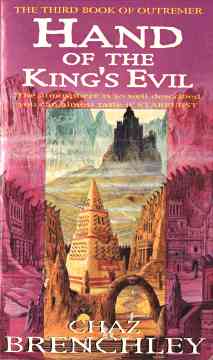 The covers for the second and third volumes of Chaz Brenchley's fantasy series, The Books of Outremer are the work of Barbara Lofthouse; her images have been retained, though within a different overall design, for the fourth and fifth volumes of the US edition.
Barbara has worked as an illustrator since 1977. She has provided artwork for books, magazines, even for packaging. She prefers to work entirely in traditional media, that is, without using a computer, and as a result has found herself, over the past few years, doing less illustrations and moving into fine art.
In an exclusive interview for this website, she admitted that she enjoyed illustrating fantasy, and would have been happy to be asked to to more: but her versatility and the sheer variety of her work meant that she was not necessarily associated with this area of work.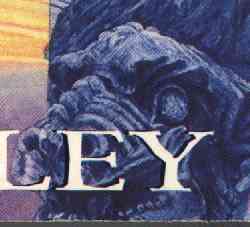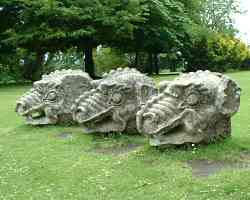 At one time it was customary for the artist to be given the completed book to work from, but this is no longer usual, and the covers for the Books of Outremer were both designed on the basis of a synopsis, before the books themselves had been completed. Barbara said that she enjoyed the freedom this gave her to blend elements from different sources into an image that pleased her; for example, a detail of the stonework from the cover of Feast of the King's Shadow was based on an image from a completely different source to the main image. The overall appearance of Rhabat, the City in the Rock, is that of Petra in Jordan; but the gryphon's head in the bottom right-hand corner of the image comes from Wallington Hall, in Northumberland.
The four stone heads which greet the visitor to Wallington are those of the gryphons who once supported the coat of arms of the City of London on Bishopsgate, one of the old gates of the city. Sir Walter Calverly Blackett, then owner of Wallington, bought the heads when the gate was demolished in 1760.
The other influence which Barbara mixed into her references for the cover of Feast of the King's Shadow was African; "It was rather disconcerting", she said, "to be given Timbuktu as a specific reference for my second cover, as I had already used it in the first." This is a curious coincidence, as at the time that the cover Feast was designed, Chaz still envisaged the Books of Outremer as a four-volume sequence, and the third volume was largely located in a castle near the hidden border of Surayon: the town of Selussin had not yet developed the importance it has in the finished work.
See Barbara's portfolio on the website of her agents, Artist Partners.
---