Jaufré Rudel de Blaye
One surprising visitor to the castle of the Roq de Rançon is a jongleur, a travelling singer, called Rudel. He owes his name, if not his repertoire, to a historical poet, a nobleman from the castle of Blaye in the southwest of France, Jaufré Rudel. Jaufré may even have visited Outremer; he probably took part in the Second Crusade in the mid-twelfth century. Six of his poems in the old Provençal language survive. This is one of the best-known troubadour lyrics, and centres on the key theme of the poet who loves his lady from afar.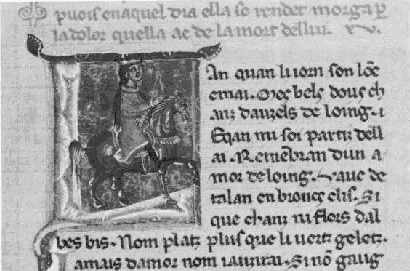 In May, when the days grow long,
The sound of distant birdsong enchants me
And when I am parted from her
My mind turns to my distant love.
My desire becomes dark and downcast
So that birdsong and mayblossom
Mean no more to me than icy winter.
I believe that He is my true Lord
Who will grant me sight of my distant love;
But for one good thing that comes my way
I suffer two ills, for I am so far from her.
Oh, why am I not a pilgrim there
Where my wooden staff and rough coat
Might feel the touch of her beautiful eyes?
What a joy it will be when I ask her,
For the love of God, to grant me lodging in her distant land;
And, if she so wills, I shall find shelter
Near to her, although I am from afar.
For that is a noble conversation,
When a lover from afar comes so close
That he enjoys solace in a courtly manner.
I shall be wretched and sorrowful when I leave,
If I do not see this distant love.
I do not know when I shall see her,
For our homelands are so far distant;
There are so many paths and mountain passes,
And for this reason, I am not divided from her -
But all shall be as she wills it!
Never again shall I rejoice for love
If I do not enjoy this distant love,
For I know of none better or finer
Anywhere, neither far nor near;
Her merit is so rich and surpassing
That there, in the land of the Saracens
I would be declared captive by her.
God, who made all that comes and goes
And who shaped this distant love,
Give me the power, for I already have the will,
That I may see this distant love,
In reality, in some place where we are at ease,
And then that garden or that garden
Would seem to me a new palace.
It's no more than the truth to call me eager
Or full of desire for my distant love;
For no other joy pleases me as much
As enjoyment of my distant love.
But that which I desire is so contrary to me
For my stepfather set this fate upon me:
That I should love, but not be loved.
Lanquan li jorn son lonc, en may,
M'es belhs dous chans d'auzelhs de lonh;
E quan mi suy partitz de lay
Remembra.m d'un'amor de lonh;
Vau de talan embroncx e clis,
Si que chans ni flors d'albespis
No.m valon plus qu'iverns gelatz.
Be tenc lo Senhor per veray
Per qu'ieu veirai l'amor de lonh;
Mas, per un ben que m'en eschay,
N'ai dos mals, quar tant suy de lonh.
Ai! car no sui lai pelegris,
Si que mos fustz e mos tapis
Fos pels sieus huelhs remiratz.
Be.m parra joys quan li querray,
Per amor Dieu, l'ostal de lonh;
E, s'a lieys platz, alberguarai
Pres de lieys, si be.m suy de lonh.
Qu'aissi es lo parlamens fis,
Quan drutz lonhdas es tan vezis
Qu'ab cortes ginh jauzis solatz.
Iratz e dolens m'en partray,
S'ieu no vey sest'amor de lonh.
Non sai quora mais la veyrai,
Que tan son nostras terras lonh;
Assatz hi a pas e camis,
E per aisso no.n suy devis -
Mas tot sïa cum a lieis platz!
Ja mais d'amor no.m jauziray
Si no.m jau d'est'amor de lonh,
Que melhor ni gensor no.n sai
Ves nulha part, ni pres ni lonh;
Tant es sos pretz ricx e sobris
Que lay, el reng dels Sarrazis,
Fos ieu per lieys chaitius clamatz.
Dieus que fetz tot quant ve ni vai
E formet sest'amor de lonh
Mi don poder, que cor ben ai,
Qu'ieu veya sest'amor de lonh
Verayamen, en luec aiziz,
Si que la cambra e.l jardis
Mi resemblon novels palatz.
Ver ditz qui m'apella lechay
Ni deziros d'amor de lonh;
Que nulhs autres joys tan no.m play
Cum jauzimens d'amors de lonh.
Mas so qu'ieu vuelh m'es tant ahis
Qu'enaissi.m fadet mos pairis:
Qu'ieu ames e non fos amatz.
The biography of Jaufré which circulated in the thirteenth century seems to have been inspired by this poem; it tells how he fell in love with the Countess of Tripoli, without ever having seen her, because he heard her praised by pilgrims returning from Antioch. It was for her that he wrote his poems (which, in the opinion of his biographer, allied good tunes to poor words). Out of desire to see her he joined the Crusade and sailed to the Holy Land, but on the voyage he fell ill, and came to Tripoli a dying man. When the Countess heard this, she came and took him in her arms, at which Jaufré recovered the strength to thank God who had allowed him to live long enough to see his love. Then he died in her arms, and she had him buried in the Temple, and grieved so deeply at his death that she became a nun.
---