Die Kreuzfahrer
The German edition of the Books of Outremer, translated by Joachim Koerber as Die Kreuzfahrer (The Crusaders), is published by Blanvalet. Since it is in the nature of translations to produce a longer text than the original, the publisher decided to split each book into two, making six volumes in all.
The promotional text was provided prior to publication by the publisher. The cover designs seem to have been selected as appropriate to heroic fantasies in general - the design for Der Kreis des Verderbens is particularly enigmatic, but artist Mark Harrison has provided a key to the mystery.
---
Die Tochter des Königs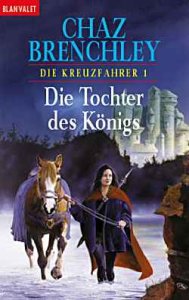 The King's Daughter
Ein magisches Mittelalters Epos um ein vertracktes Gelübde aus der Welt der Kreuzritter - voller Leidenschaften, Intrigen und Dämonen.
[A magical medieval epic about a troublesome vow from the world of the Crusader knights - full of passion, intrigue and demons.]
Auf der Reise der jungen Lady Julianne zu ihrem künftigen Gemahl, den sie nie gesehen hat, kommt es zur schicksalhaften Begegnung mit dem jungen Knappen Marron.
The young Lady Julianne's journey towards her future husband, whom she has never seen, is interrupted by a chance encounter with the young squire Marron.
B&B Fantasy Portal gave an enthusiastic review to Die Tochter des Königs:

So spannend und atmosphärisch dicht kommt Fantasy selten daher! Wer auf der Suche nach einer Serie mit Potenzial ist, sollte sich diesen neuen Autor nicht entgehen lassen.
It's not every day that a fantasy turns up this packed with excitement and atmosphere! If you are looking for a series with potential, don't let this new author escape you.
Order Die Tochter des Königs from Amazon.de
---
Der Kreis des Verderbens
The Ring of Ruin
Chaz Brenchley verbindet meisterhaft die düstere Atmosphäre der mittelalterlichen Festung mit der Farbenpracht der orientalischen Landschaften.
[Chaz Brenchley shows a master's touch in combining the misty atmosphere of the medieval fortress with the gorgeousness of the oriental landscape.]
Bei einem Angriff des Wüstenstammes der Scharai kann sich der inhaftierte Knappe Marron befreien. Indessen versucht die junge Lady Julianne verzweifelt, sich der aufgezwungenen Heirat mit Baron Imber zu entziehen.
An attack by the desert tribes of the Sharai enables the imprisoned squire Marron to gain his freedom. Meanwhile the young Lady Julianne tries desperately to extricate herself from her enforced marriage to Baron Imber.
Order Der Kreis des Verderbens from Amazon.de
---
Der Zug durch die Wüste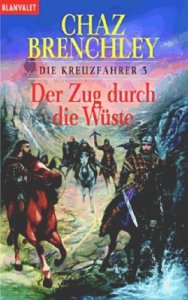 The Way through the Desert
Der junge Ritter Marron und seine Gefährten fliehen aus der Wüstenfestung Roq de Rançon - und werden nun von den Erlöserrittern verfolgt. Sie suchen Schutz bei den feindlichen Stämmen der Scharai...
The young Knight Marron and his companions escape from the desert stronghold of the Roq of Rançon - and are followed by the Knights of Ransom. They seek protection among the hostile tribes of the Sharai...
---
Der Schatten des Königs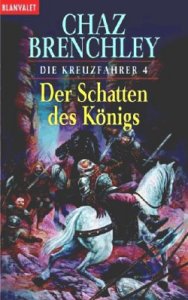 The King's Shadow
Obwohl die Scharai ihn als Propheten verehren, verfolgt der junge Ritter Marron eigene Pläne - und befreit Julianne, die von ihnen in einem Harem festgehalten wird...
Although the Sharai venerate him as a prophet, the young knight Marron has his own plans - and frees Julianne, whom they have imprisoned in a harem...
---
Der Atem des Dämons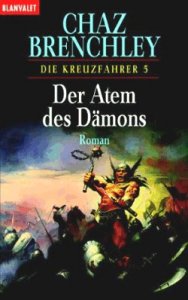 The Breath of the Demon
Morakh entführt Lady Julianne aus ihrem Brautgemach und verschleppt sie auf ein abgelegenes Schloss. Dort soll sie ihm als Lockvogel dienen, denn Morakh hat eine tödliche Falle für seine Verfolger aufgestellt...
Morakh abducts Lady Julianne from her bridal chamber and carries her off to an isolated castle. Here she will serve as a decoy, for Morakh has set up a deadly trap for their pursuers.
---
Die Straße der Offenbarung
The Road to Revelation
Der Zauberer, der das geheime Reich Surayon verbarg, wurde zerstört. Im bevorstehenden Kampf ist Surayon dem Feind scheinbar hilflos ausgeliefert - da greifen die Scharai und die Elessi-Heere des Baron Imber an ...
The magician who concealed the secret realm of Surayon has been destroyed. In the battle which is imminent, Surayon appears to be helpless in the hands of the enemy - and this is where the Sharai, and Baron Imber's Elessan barons attack...
---